The rEADer Volume 6 is EAD's previous two weeks of social news – delivered today.
We know you are busy, and we know you want your information the way you want it. You can follow us on social or continue to indulge with a quick update from EAD.
---
EAD and IPS are winning awards and receiving recognition!
The Nebraska Business Development Center awarded Engineering, Automation, and Design Inc. with the 2019 Employee Development Business of the Year Award. The award recognizes our continued commitment to employee development.  Please click the link to read the complete article:  NBDC Link.
The Midland Business Journal recognized Engineering, Automation and Design Inc., and Industrial Panel Solutions for their part in making safety the main priority!
By David Kubick at the Midland Business Journal
With hazards for engineers ranging from working with toxic materials to high voltage equipment, safety is a No. 1 concern for the industry. Dean Epperson, senior project manager and safety director at EAD, said one of the firm's biggest safety precautions is modeling safe behaviors to one another."Our team members have developed safety habits like pointing out potential trip hazards or head knockers for people following them through an unfamiliar plant," he said. Each new employee goes through a face-to-face safety orientation during their on-boarding process. The orientation starts by sharing management's commitment to safety and builds on specific requirements and behavior-based safety.
"We prepare ourselves for onsite work by planning our tasks, understanding the specific hazards and getting to know the local personnel," Epperson said. "Standard contractor training provided by our clients is typically very appropriate, but it is important for our team to also become familiar with any temporary site conditions and getting a feel for the local safety culture."  Please click the link to read the complete article at our Safety Culture Page.
---
We have jokes!
---
Project Profile: Industrial Panel Solutions Case Packer Panel Upgrade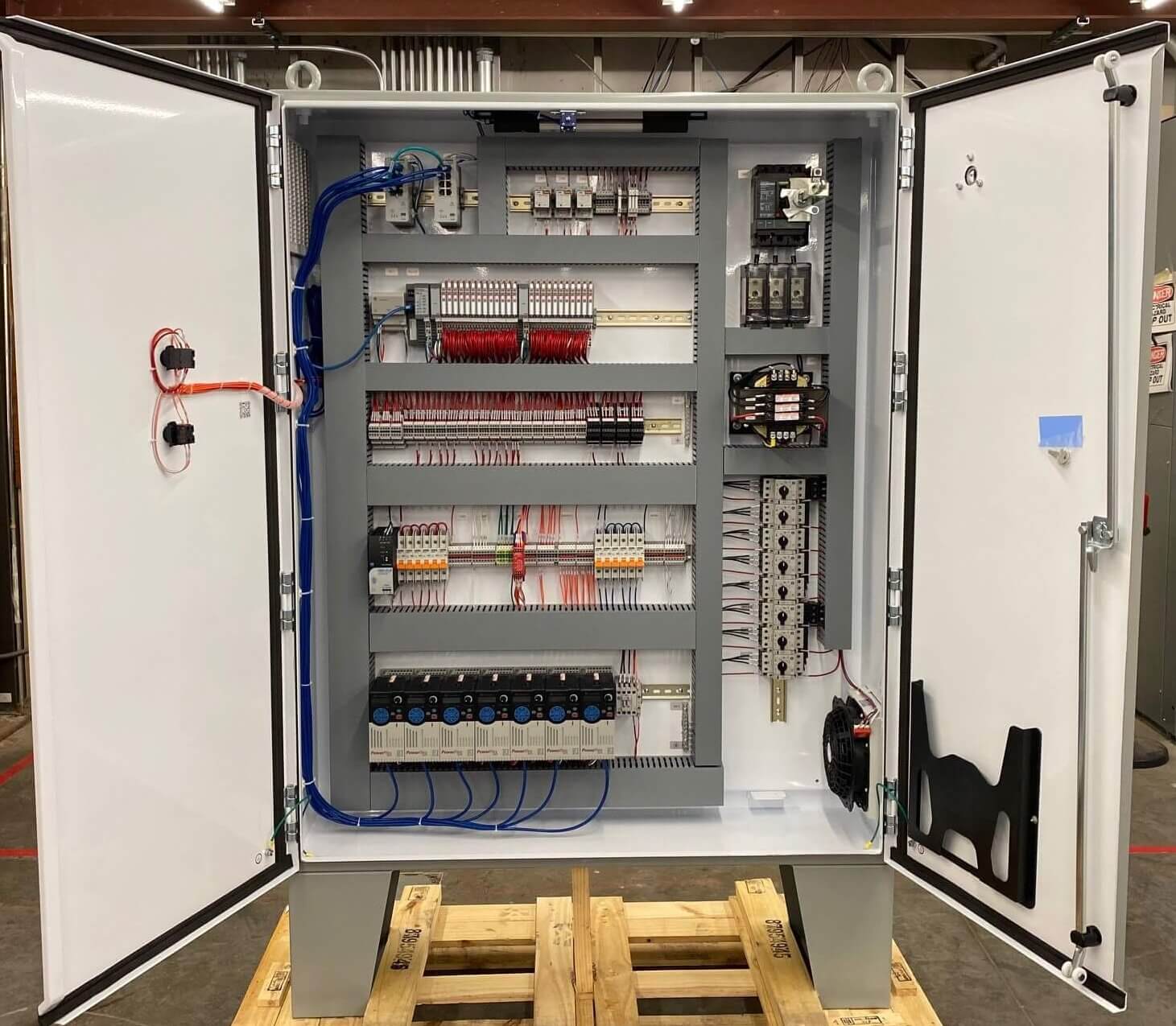 The Ask!
IPS was tasked with building a case packer panel for our client.  The panel was integrated into our client's facility, providing them with automation control, equipment monitoring, and an operational and maintenance interface between their conveyance and critical control point equipment.
What EAD Improved!
EAD designed a case packer panel and integrated it within our client's facility, significantly improving their facility packaging line's life cycle, maintainability, reliability,  and production data.  Because it dramatically lowers the risk of an arc flash hazard, isolates hazardous energy, and provides advanced safety circuit monitoring, our panel helps our client rest assured that their personnel always stay safe!
For the complete project profile visit https://www.indpanels.com/project/case-packer-panel-upgrade/
---
Electrical Engineering
Electrical Engineering at EAD involves providing safe, efficient power, lighting and controls engineering design enabling our clients' projects to be successful.
Project Profile: Electrical Distribution Upgrade for Animal Vaccine Producer
A well-known animal vaccine producer recently acquired a facility that went through several expansions over several years. The expansions included projects that implemented standalone production units with individual mechanical and electrical utility systems.  This left our client concerned about the reliability of their plant's electrical infrastructure, and, thus, their ability to maintain their equipment and ensure compliance with safety code requirements. Without properly maintained equipment, the electrical power dropped far too frequently, leading to production delays and revenue losses. Click the link to read the complete project profile.
---
EAD is Growing!
We've added new control panel fabricators, interns, and engineers to our team. EAD currently has eight positions available.  Among these, we are looking for a new business development director, a managing director, and assistant engineers.  Click here to see all of the new positions available. 
---
We would love a comment, like, review, phone call, or testimonial – we're not picky when it comes to compliments.
We like reviews. Have you done work with EAD? Are you wanting to do work with EAD? Give us a call 402.884.8650, or leave a google review at https://g.page/ead-corporate/review?mt
---
Follow us on Facebook and LinkedIn for real-time news and updates.
The rEADer volume 6 – Awards | Project Profiles | Career Opportunities