Easily Avoid Ladder-Related Injuries
It's a perfect summer weekend morning – it's not too hot, and you want to clear the leaves out of your gutters before Labor Day weekend. So, you grab a ladder and a pair of gloves and proceed with your work.
But, what about that ladder you're on? Is it good shape? Are you using it correctly?
The Occupational Health and Safety Administration estimates that 36 fatalities and 24,882 injuries occur yearly due to falls from stairways and ladders used in construction. In a Bureau of Labor Statistics study of 1,400 ladder accidents, less than a quarter of them were in construction, which means that most of those injuries happened away from a construction site, like at home. In fact, more than 90,000 people receive ER treatment from ladder-related injuries every year.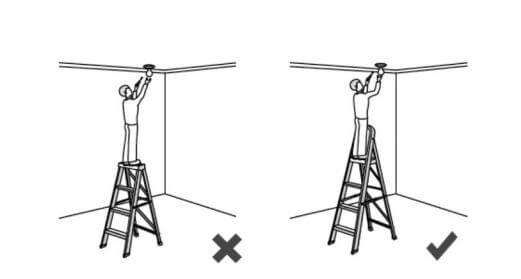 Here's how to use a ladder safely:
Step 1: Determine the proper ladder to use based on weight capacity and height determined by the manufacturer. Always inspect the ladder for cracks in the stairs or rails before use.
Step 2: Ensure the base of the ladder is secured and on a level surface. NEVER stand on the top rung of a ladder.
Step 3: Wear proper footwear, i.e., flat and non-slip shoes. Avoid carrying objects up or down the ladder, if possible.
Step 4: Maintain three points of contact at all times – don't reach. If you have to reach off the ladder for an object or task, climb down and move the ladder that spot. Never place a ladder in front of a door or entryway.
You can avoid injury and a trip to the emergency room if ladders are used properly. For a complete guide to ladder safety, view the OSHA3625 booklet.
As part of EAD's ongoing safety commitment, our employees present a weekly safety topic. To find out how EAD can help you operate more safely, visit our Safety Services page.
So, take safe steps: Don't fall off the ladder!