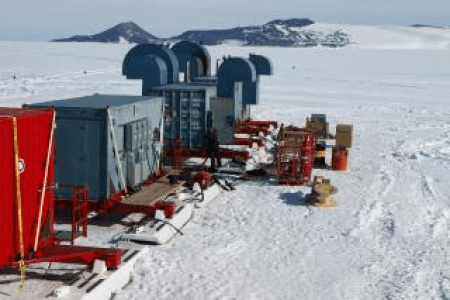 EAD created a custom command-and-control system for a research drill. The system is essentially a large Ethernet ring connected to sensors that monitor the entire system and allow the researchers to control it from laptop computers. EAD deployed an employee to Antarctica to see the drill through its crucial testing phase on the ice shelf near McMurdo.
EAD was recommended by another consulting firm to be part of the research team associated with the WISSARD project. During this project a specially designed hot-water drill cleanly bored through a half mile of ice, enabling the National Science Foundation (NSF)-funded team of researchers to become the first ever to reach and sample the "grounding zone," where Antarctic ice, land and sea all converge. Data gathered from samples of sediment taken in the grounding zone will provide clues about the mechanics of ice sheets and their potential effects on sea-level rise.
EAD's part in this project included design and build of the control system for the hot water drill. All instrumentation was specified and mounted in shipping containers to be sent directly to the drill site in Antarctica. EAD staff completed the command and control installation on the ice as part of the acceptance testing and commissioning of the WISSARD hot water drilling system.