Delivering More. Much more.
Over the years, EAD has accomplished remarkable milestones. With 10,000+ successful projects and over 1.2 million hours of embedded services since 2001, our track record speaks for itself—and we're still growing.
We thank our clients! We have evolved and grown as a firm by listening to their ever-changing needs. We expanded our services, diversified our expertise, and fearlessly tackled some of the world's most complicated engineering challenges. Today, we proudly serve as a trusted business partner to clients in the food & beverage, life sciences, logistics/parcel, chemical, and consumer goods industries. Our primary goal is to optimize our clients' bottom line through an unwavering commitment to excellence in engineering and automation, project and construction management, and business and operations consulting.
What truly sets us apart is our deeply personal approach
We believe in understanding first
By assessing and understanding your most challenging problems, we adapt quickly to changing requirements and deliver tailored solutions.
We are responsive
Our genuine care for your success drives us to respond promptly and efficiently to your requests, ensuring that you receive the attention you deserve.
We value transparency
Honesty is at the core of our communication. We provide you with the information you need, even if it may not always be what you want to hear, empowering you to make informed decisions.
We prioritize relationships
Our belief in building long-term relationships extends far beyond project completion. We invest in lasting partnerships that endure and continue to bring value.
Our unwavering dedication to our client's success fuels our continuous growth. We are resolute in our pursuit of discovering the most effective and efficient solutions that drive positive outcomes for your business.
It's personal. We are building something greater than ourselves, because the world needs more hope.
H
High Character
We choose to do
the right thing, with
honesty and integrity.
O
Own the Outcome
We are responsible
for what we bring
to the project every day.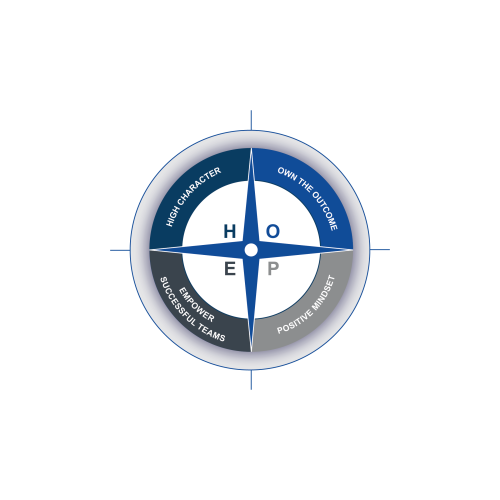 P
Positive Mindset
We approach our work
with a positive attitude that
lifts the team.
E
Empower Successful Teams
We make the team stronger
and more confident when
we work together.